How You Can Help
Volunteer
Donate
Foster
Wish List
Goodsearch
Planned Giving
Workplace Giving
Raise Funds for Sisters
United Way
Please join us in helping save animals and make a difference in their lives. There are several ways you can help:
Donate money – Donations are critical to our ability to continue helping animals. Did you know that even a $1.00 donation can make a difference to an animal in need. A dollar can:
Feed a hungry kitten or puppy for a day.
Provide a blanket to give warmth and comfort to a scared animal.
Provide much needed medication to make a sick animal feel better.
Your $1.00 will be spent solely for the purpose of taking care of the animals and making their lives better. Please click on the Donation icon on our Home Page if you are interested in donating through PayPal or send a check or money order to our mailing address at:
Sisters Animal Sanctuary
11480 Fogg Road
Elk Grove, CA 95757
---
Use Goodsearch as your internet search engine. Just go to the www.goodsearch.com site and type in Sisters Animal Sanctuary, Elk Grove in the "WHO DO YOU GOODSEARCH FOR" box. It is powered by Yahoo so you get the best search results while raising money for homeless cats and dogs at no cost to you.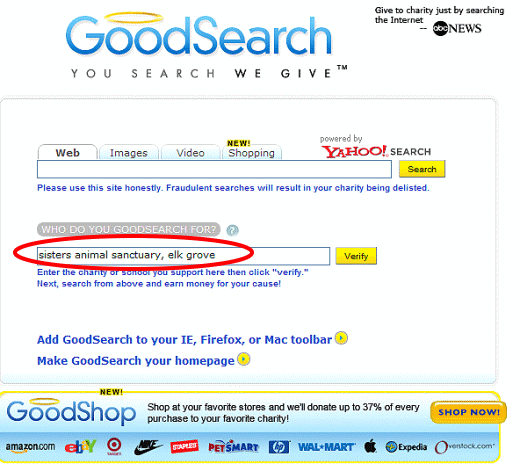 ---
Sponsor-A-Pet. Click on the Sponsor-A-Pet link below and sponsor one or more of our wonderful animals.
---
Donate items to our Wish List!
First and foremost our greatest wish is to find permanent loving homes for our animals.
Gift cards to Home Depot, Lowes, Costco, Target, Walmart, Petco, Pet Club, Petsmart
Washer/dryer – heavy duty to accommodate bulky items like pet beds, blankets, etc.
Pillow cases both summer and winter
Cash donations.
Your time – have a skill like carpentry, electrician, plumbing etc.?  Check with us for projects you may be interested in.  We supply materials.
---
Volunteer – donate some time!
We are looking for compassionate people who love animals to volunteer at our facility in Elk Grove, California.  We also need assistance with managing feral sites, fundraisers, writing grants, maintaining databases, and other administrative type tasks.
If you are interested in volunteering at our facility or in any other capacity, please let us know via e-mail, phone, or fax.
E-mail: sistersanimalsanctuary@frontiernet.net
Phone: (916) 548-3502
---
Planned Giving
Monthly Programs
You can arrange to support Sisters Animal Sanctuary on an ongoing basis by having your bank send us a check automatically. Most local banks have a program where they can deduct a specific amount from your checking or savings account each month and send it directly to Sisters Animal Sanctuary. That way you won't have to remind yourself to do it and the bank will provide a record of your tax-deductible donation…and your donation will assist us in saving more animals.
Gifts for People who Have Everything
You can donate to Sisters Animal Sanctuary in honor of a friend for any occasion. Sisters Animal Sanctuary will send a card to the recipient informing them you have made a donation to Sisters Animal Sanctuary in their name. You can contact us via phone (916-548-3502) or email (sistersanimalsanctuary@frontiernet.net) to initiate the gift. These donations make great gifts and help support our efforts to help the animals.
Leave Behind Your Legacy to Help Animals
We all know that at some time we will leave this earth and perhaps go meet our beloved animal friends over the rainbow bridge. Consider including Sisters Animal Sanctuary in your estate planning by formally including us in your will or trust to continue your support and helping the animals.