Sisters Animal Sanctuary
By Rachel Leibrock
rachell@newsreview.com
This article was published on 05.15.14.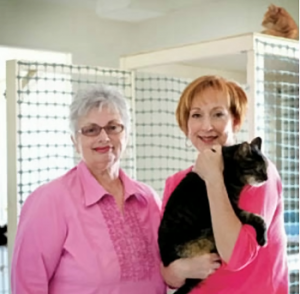 It started on the side of the freeway in 2003. That's when Julie Lindsey spotted the black cat darting around the embankment as she drove south on Interstate 5. "I remember thinking, 'Something's not right—if I drive by and see you again, I'm going to do something about it.'" Sure enough, when Lindsey drove past that particular stretch again, there was the black cat, still on the side of the road.
Worried, Lindsey called her sister, Kathy Monahan, and the pair set out trying to rescue the feline—an effort that would ultimately take three days and a lot of head-scratching. The cat, who lived in a nearby motel parking lot with her small litter of kittens, was friendly but not receptive to relocation. "I didn't know what the heck we were doing," Lindsey remembered.
Maybe not, but the cat they nicknamed "Freeway" inspired the sisters. The pair contacted other rescue groups, learned how to trap cats and eventually launched the Sisters Animal Sanctuary refuge, a nonprofit, no-kill shelter.
Now located on a 20-acre lot in Elk Grove, the sanctuary, which is available to visit by appointment only, relies heavily on the donation of goods and services. It's home to a pair of barnlike metal buildings, a double-wide trailer and dozens of cats that receive daily care from an onsite caretaker, Dawn Morris.
Which is not to say that it's the place to find a new pet. "Our adoption rate is only about two cats a year," Lindsey said. The purpose, Monahan explained, is to instead ensure that every rescued cat lives a long and healthy life.
"Our mission when we started—once we found out how many animals are killed in California [at shelters]—was to figure out a way to stop [the cycle]," she said. As such, the sisters say they don't focus so much on "companion" animals—the tame, friendly, easy-to-adopt kitties. Those cats that do get placed into new homes, however, come with a guarantee: "We'll take back any adoptees for life," Lindsey said.
So, whatever happened to Freeway, that wayward black cat who started it all?
"She's still living at the [motel]—we wanted to bring her into our facility, but she's so smart, we didn't know if she'd like it," Lindsey said. "But we've been feeding her for 11 years, and she knows us, and she's doing good." (916) 698-2602 www.sistersanimalsanctuary.com.